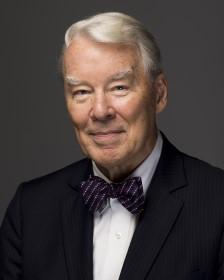 Alan K. Henrikson is Lee E. Dirks Professor of Diplomatic History Emeritus and the founding Director of Diplomatic Studies at The Fletcher School of Law and Diplomacy, Tufts University, where he has taught American diplomatic history, contemporary U.S.-European relations, global political geography, and the history, theory, and practice of diplomacy. During the academic year 2010-2011 he was Fulbright Schuman Professor of US-EU Relations at the College of Europe in Bruges. In November 2014, March 2015, and April 2017 he taught in Tallinn at the Estonian School of Diplomacy, and in April 2018 in Moscow at MGIMO University. In the autumn of 2016 he lectured at the Australian National University in Canberra and for the National University of Vietnam in Ho Chi Minh City and at the Diplomatic Academy of Vietnam in Hanoi.
In August 2009 he was Guest Lecturer in diplomatic studies, discussing also U.S. relations with countries in the southern African region, at the University of Pretoria. In November 2005 he was Visiting Professor at the European Commission in Brussels where he taught a course on "American Foreign Policy Making" for Commission officials. During the Spring of 2003 he was Fulbright/Diplomatic Academy Visiting Professor of International Relations at the Diplomatische Akademie in Vienna. He has been an Associate and a Visiting Scholar at the Weatherhead Center for International Affairs at Harvard University, where he also has served as Counselor on Canadian Affairs. During 1986-1987 he was Lloyd I. Miller Visiting Professor of Diplomatic History and Scholar-in-Residence at the Center for the Study of Foreign Affairs in the Foreign Service Institute of the United States Department of State. He also has taught as Visiting Professor at the National Institute of Defense Studies in Tokyo and as United Nations Development Programme (UNDP) Visiting Professor of Diplomatic History at the China Foreign Affairs University in Beijing.
He has written widely on the history and current problems of American foreign policy, U.S.-European Union relations, the origins and international role of NATO, and the concept and modalities of Diplomacy. His writings also have addressed Nordic/Arctic geostrategic issues, the Canadian-U.S.-Mexican "continental" relationship, the diplomacy of Caribbean island countries and other small states, the geographical "mental maps" of American foreign policy makers, and the "consensus" procedures developed in the multilateral diplomacy of international organizations—the subject of the volume Negotiating World Order: The Artisanship and Architecture of Global Diplomacy.