Designed for undergraduate and graduate students, the UNAGB Case Competition challenges teams of 3-5 students to pitch a solution to a problem related to one of the UN Sustainable Development Goals (SDGs).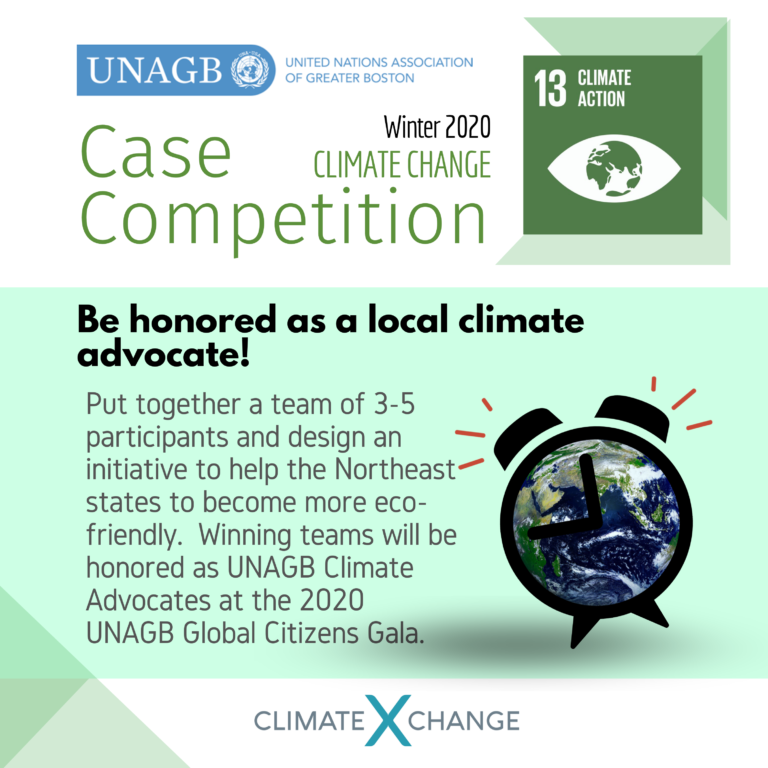 This year the competition will focus on SDG 13: Climate Action.
UNAGB is proud to announce that the first-round of their Case Competition, focusing this year on creating solutions for SDG 13: Climate Action is now live!!
The competition challenges teams of 3-5 people to come up with a solution related to a case on climate change and pitch their idea to a panel of experts for a chance to be recognized as UNAGB Climate Advocates and be honored at the UNAGB Global Citizens Gala in Spring 2020. 
Timeline:
Deadline to submit first-round pitch—November 17th, 2019
Finalists Announced—December 20th, 2019
Pitch Day —February 2020
Please click here for full UNAGB Case Competition Rules
Entrance fees:
–The first-round is free to all who wish to participate.
–Finalists invited to the UNAGB Pitch Day Conference pay an entrance fee of $125 per person.
The Pitch Day Conference will provide a great opportunity for students to network with peers in who are in UNA-USA Campus Chapter and other groups interested in the UN Sustainable Development Goals. The $125 entrance fee covers the cost of food, drinks, UN swag, and other conference fees.
Please see UNAGB Case Competition rules for more information
Submit your case abstract below by November 17, 2019 at 11:59 p.m. EST


____
Case Competition Prompt:
The East Coast of the United States is contemplating passing the Transportation and Climate Initiative (TCI), a carbon pricing model that focuses on reducing emissions from the transportation industry. Imagine that the Governor of Massachusetts, Charlie Baker, is interested in designing an initiative to inform all stakeholders of TCI and give them an opportunity to influence the distribution of revenue reaped from the program. Designing this initiative will be difficult, as many stakeholders have varying opinions and the precedent has been for the executive office to make top-down decisions.
Write a report of 500 words that outlines your plan/initiative to include the community in deciding how TCI revenue is spent to ensure an equitable outcome for all stakeholders. Remember to address the implementation of the plan, its feasibility, its risks and its benefits.
____
Introduction to the TCI
The Transportation and Climate Initiative, which has been developing for more than ten years, is a regional collaboration between twelve Northeast and Mid-Atlantic states (including Washington D.C.) that seeks to improve transportation, develop the clean energy economy, and, overall, reduce carbon emissions from the transportation sector (as defined as personal and commercial vehicles).
The Transportation and Climate Initiative supports the distribution of "green" modes of transportation and decrease of greenhouse gas emitting fuels in TCI states. Through the implementation of the TCI, participating states will be able to maximize their respective economies around emission reduction opportunities and expand state-level efforts that bolster more sustainable communities. Under a transportation sector based cap-and-invest program, governments will decrease the allowed emissions limit yearly. As fuel prices increase due to limited supply, the hope is that more individuals will lean toward using eco-friendly modes of transportation. Additionally, the "Cap-and-Invest Program" will guide states to invest revenues into low-carbon mobility infrastructure projects and have direct impacts such as "job creation directly related to TCI and "improvements to mobility, accessibility and ease of travel."
How will the TCI work?
The Transportation Climate Initiative is looking to tackle emissions and upgrade transportation in the Northeast and Mid-Atlantic regions by building a cap-and-invest program for transportation fuels.The program would require fuel distributors to purchase permits, called "allowances," according to the greenhouse gas emissions from the products they sell. These companies can acquire these allowances by either purchasing them at government-run auctions or trading amongst each other. By decreasing the number of allowances auctioned each year, states can guide transportation emissions downward and raise vital revenue for clean transportation investments.
In addition to facilities and organizations working to reduce emissions, the government could use revenue from the TCI to reduce emissions of the general population through infrastructure and other public service projects. Some investment possibilities highlighted by the Union of Concerned Scientists are to "[invest] in clean, renewable energy technologies and energy efficiency measures," transition programs to aid workers in sectors affected by the implementation of TCI, finance programs that either compliment the TCI or help communities and ecosystems adapt to the unavoidable consequences of global warming, and pay for additions to the transportation sector that will allow it to run smoother, cleaner, and target larger crowds rather than each individual using a car to get around. As Rutgers University Environmental Analysis Communications Group explains, "The nature and magnitude of the economic effects of transportation improvements will vary according to the type of project undertaken, the area in which it occurs, the types of industries impacted, and a myriad of other factors."
Exhibits A and B show how revenue from from past carbon pricing initiatives was distributed. For example, the Regional Greenhouse Gas Initiative (RGGI), a similar cap-and-trade program, spent 58% of revenue in energy efficiency. Other examples of use of revenue can be found in the versions of TCI implemented in California and Canada.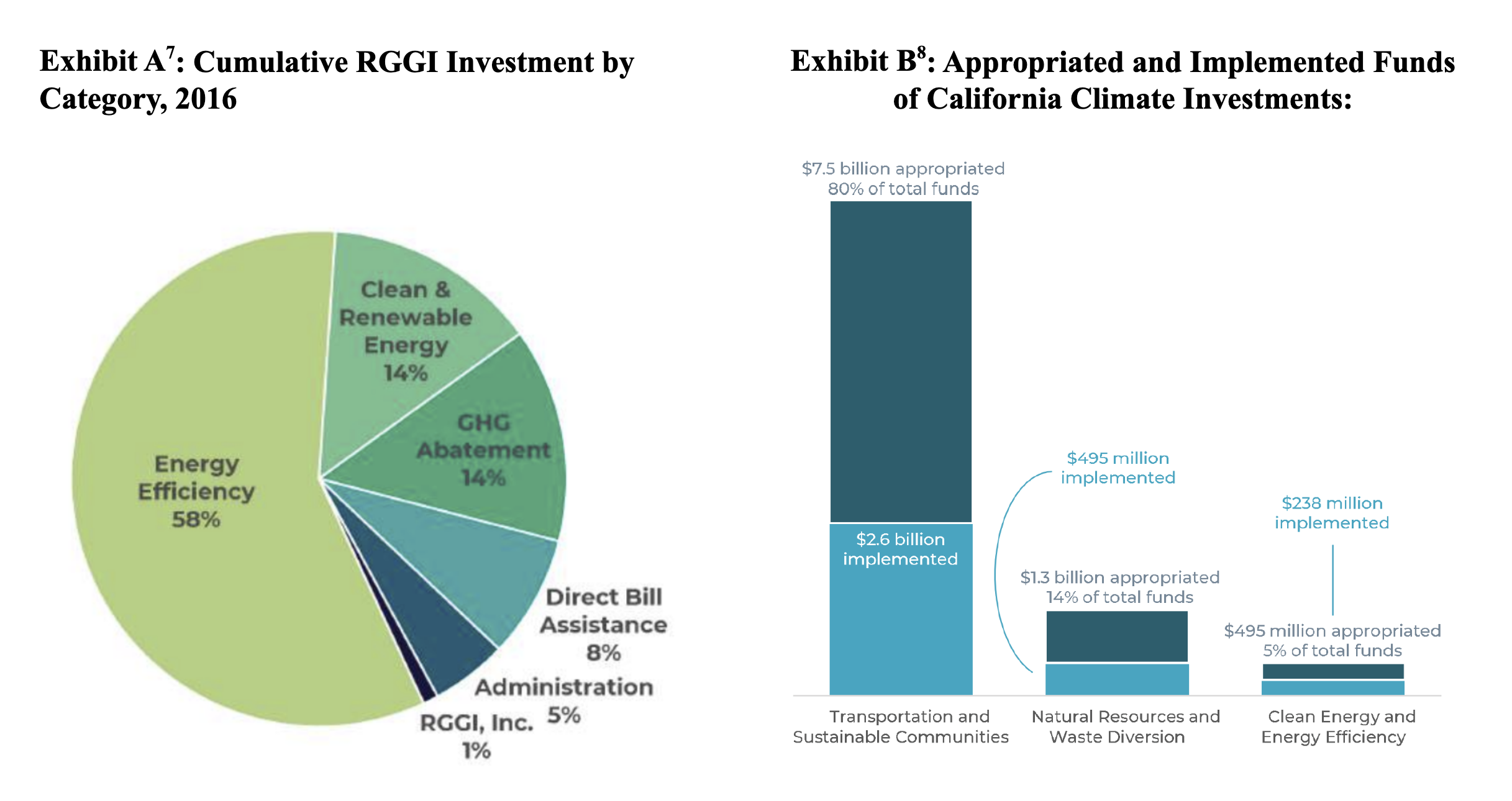 Stakeholders
The biggest question that most stakeholders in the Transportation Climate Initiative are asking is how the revenues will be spent and how the increase in fuel prices will affect them. As expected, various stakeholders will be impacted by the TCI and each have a different viewpoint on how the money should be put to use. Below are some of the stakeholders that will be most impacted by the TCI and their interests.
Low-income communities. Low-income communities, which often correlate with racially marginalized communities, are interested in maintaining equal economic opportunities in their communities. Many are also concerned with giving low-income youth equal access to quality education. Low-income communities also focus on providing their residents with excellent healthcare options, especially since low-income communities are known for having the largest percentages of greenhouse gas emissions.
Politicians. Politicians are interested in pleasing as many citizens as possible in the short term, while also ensuring the long-term economic and social health of their area of governance. Specific areas of interest may sustaining a reasonable cost of living, maintaining a balanced budget, and reacting to pressing social issues…including constituents who want access to cleaner transportation systems.
Business. Businesses all have a shared interest in generating profit, which includes keeping costs down. While many are increasingly cognizant of the importance of respecting the environment and community in their operations, not all businesses subscribe to this philosophy because of additional costs that doing so can incur. GreenBiz identifies different ways that businesses approach their responsibility to act on climate change.
Fuel Distributors. Fuel distributors have an obvious concern of maintaining sales and demand for petroleum. However, as alluded to in a recent statement by The American Petroleum Institute (API), petroleum companies recognize that they have to address the public concern that their products contribute to greenhouse gas emissions and climate change and they seek to be included in conversations on policies like the TCI.
Environmental Groups. Environmental groups concur that the transportation sector is the largest contributor of emissions. Environmental groups agree that a regional equitable plan to decrease carbon emissions will increase health in low-income communities.
Equity Groups. Equity groups fight for equal opportunities no matter the circumstances. They are concerned with providing safe, monetarily and physically accessible, unbiased options for members of the community. Equity groups want to see a change that includes all of the Northeast's residents and not forget ostracized communities in the negotiations.
Transportation Sector. The main concerns of the transportation sector are to provide transportation to communities, trade, and companies. Because this sector has various competitors, there are often price wars to win more clients. This sector is concerned with providing transportation that is accessible, efficient, and safe.
Current Management of Revenue
Due to the variety of conflicting opinions on how to use TCI revenue, a top-down approach is usually followed, with the executive office dictating how TCI revenue will be spent. In order to get more buy-in from stakeholders, this case challenges you to conceptualize a plan/initiative to account for the opinions of the various groups impacted by the TCI.
Resources
Abel, David (2018). Boston Globe. In Landmark Agreement, Mass., eight other states vow to cut transportation emissions. https://www.bostonglobe.com/metro/2018/12/18/landmark-agreement-mass-eight-other-states-vow-cut-transportation-emissions/kzsX7xUw3l5R2x5AIC47UK/story.html
American Psychological Association. Ethnic & Racial Minorities and Socioeconomic Status. https://www.apa.org/pi/ses/resources/publications/minorities
Kurman-Farber, Jonah and Breslow, Marc (2018). ClimateXChange. Regional Cap and Trade: Lessons from the Regional Greenhouse Gas Initiative and Wesern Climate Initiative. p.2.
Kurman-Faber., Jonah (2019). Climate XChange. Carbon Pricing in a Just Transition.
Macchiarola, Frank (2019). American Petroleum Inistitute. RE: Transportation Climate Initiative. https://www.transportationandclimate.org/sites/default/files/webform/tci_2019_input_form/TCI%20Comment%20API.pdf
Rutgers University Environmental Analysis Communications Group. Prepared for the Georgetown Climate Center and the Transportation and Climate Initiative. TCI Scoping Paper Series: Benefits of Investment. p.3
Transportation and Climate Initiative- About Us. (n.d.) Retrieved from https://www.transportationandclimate.org/content/about-us
Trexler, Mark (2016). GreenBiz.com. Six Ways Businesses View Climate Change. https://www.greenbiz.com/article/six-ways-businesses-view-climate-change
Union of Concerned Scientists. Cap and Investment- How a Cap-and-Trade Program Can Reduce Energy Costs, Create Jobs, and Improve Energy Security. p.1
US- Transportation and Climate Initiative (TCI) to design carbon pricing mechanism. (n.d.). Retrieved from https://icapcarbonaction.com/en/news-archive/597-us-transportation-and-climate-initiative-tci-to-design-carbon-pricing-mechanism