We are proud to recognize two exceptional leaders with our 2019 Global Citizenship Awards.
Dr. Kerry Healey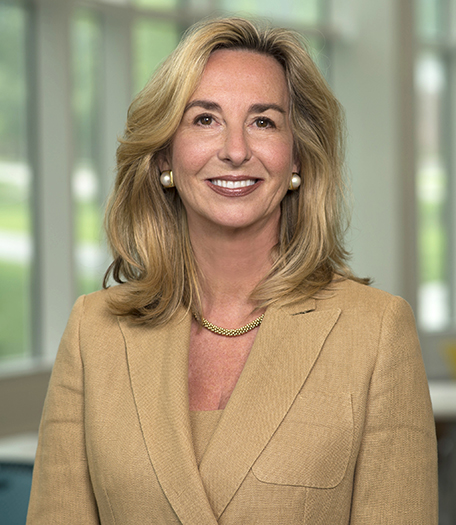 Dr. Kerry Healey took office as President of Babson College in July 2013, following nearly three decades of service in academia, government and humanitarian work, both in the United States and internationally. Under her leadership, Babson strengthened its reputation as the recognized global leader in entrepreneurship education. Over the past six years, Babson welcomed the most diverse and well-qualified students in its history and took steps to increase access and affordability.
Healey created and launched Babson's prestigious Global Scholars program, a full tuition, need-based scholarship for exceptional international students. During her tenure, Babson brought free online entrepreneurship courses to nearly 200,000 students in over 200 countries and territories. Prior to Babson, Healey served with distinction as the 70th lieutenant governor of Massachusetts. She implemented a wide range of policy and legislative initiatives for the Romney-Healey administration, highlighted by a successful bipartisan effort to craft first-in-the-nation health care reform legislation. During her term, Massachusetts schools were ranked No. 1 in the nation. Recovery High Schools were established in response to the opioid epidemic.
In 2008, Healey was appointed as a founding member of the Executive Committee of the U.S. State Department's Public-Private Partnership for Justice Reform in Afghanistan (PJRA), where she led efforts to strengthen legal education and rule of law in Afghanistan. She spent more than a decade as a public policy consultant to the United States Department of Justice for Cambridge-based think tank, ABT Associates. She has been a fellow at the Harvard Kennedy School's Institute of Politics and Center for Public Leadership.
Healey holds an AB in government from Harvard College and a PhD in political science and law from Trinity College, Dublin. The Politics of Dignity: An Agenda to Unify America's Moderate Majority (Disruption Books) will be released in January 2020.
Dr. Alan Henrikson

Dr. Alan Henrikson is a Lee E. Dirks Professor of Diplomatic History Emeritus and founding Director of Diplomatic Studies at The Fletcher School of Law and Diplomacy, Tufts University, where he taught American diplomatic history, contemporary U.S.-European Relations, global political geography, and the history, theory, and practice of diplomacy.
Henrikson has taught and lectured around the world, including two occasions with the esteemed Fulbright Program: once in Spring 2003 as a Fulbright/Diplomatic Academy Visiting Professor at the Diplomatische Akademie in Vienna and again in 2010-11 as a Fulbright Schuman Professor at the College of Europe in Bruges. He also has taught as United Nations Development Programme (UNDP) Visiting Professor of Diplomatic History at the China Foreign Affairs University in Beijing.
He has written widely on the history and current problems of American foreign policy, U.S.-European Union relations, and the origins and international role of NATO. His writings also have addressed Nordic/Arctic strategic issues, the Canadian-U.S.- Mexican "continental" relationship, the diplomacy of Caribbean island counties, the geographical "mental maps" of American foreign policy makers, and the "consensus" procedures developed in the multilateral diplomacy of international organizations—the subject of the volume Negotiating World Order: The Artisanship and Architecture of Global Diplomacy.
A native of Iowa, Henrikson received AB, PM and PhD degrees in History from Harvard University where he was a Harvard National Scholar and a Danforth Graduate Fellow. He also holds BA and MA degrees from the University of Oxford, where he read Philosophy-Politics-and-Economics at Balliol College as a Rhodes Scholar. He is a past President of the United Nations Association of Greater Boston (UNAGB) and member of the National Council of the United Nations Association of the United States (UNA-USA). He has served as a Vice President of the World Affairs Council of Boston and on the Board of Directors of the Boston Committee on Foreign Relations. He is a member of the Council on Foreign Relations in New York.