---
Event Details
Want to learn about the United Nations SDGs? Presented by Impact Hub Boston and UNAGB, we will focus on SDG 3: Good Health and Well Being.
About this Event
UNAGB is excited to partner with Impact Hub Boston on the creation of the new series, The U.N. Perspective Series, presented by UNAGB and Impact Hub Boston.
In each event, we will explore both the global and local work being done to address a United Nations Sustainable Development Goal (SDG) by featuring global experts and local social enterprises and non-profits…many from Impact Hub Boston.
You will also have the chance to engage with other community members on SDG campaigning and advocacy in Boston.
_______
U.N. Perspective Series: Good Health and Well-Being
November 13 from 5:30-8:00 at Impact Hub Boston on the 20th floor
This event will feature…
Global Perspective
-Dr. Stephen Marks, Professor of Health and Human Rights at the Harvard T.H. Chan School of Public Health
Local Perspective
-Representative from the Resilient Sisterhood Project: a Boston-based non-profit dedicated to raising awareness and empowering women and young adults of African descent affected by diseases of the reproductive system.
-Representative from Wellable: a Boston-based employee wellness company providing organizations a platform to ensure employee health, happiness and well-being.
This is a free event, but registration is required.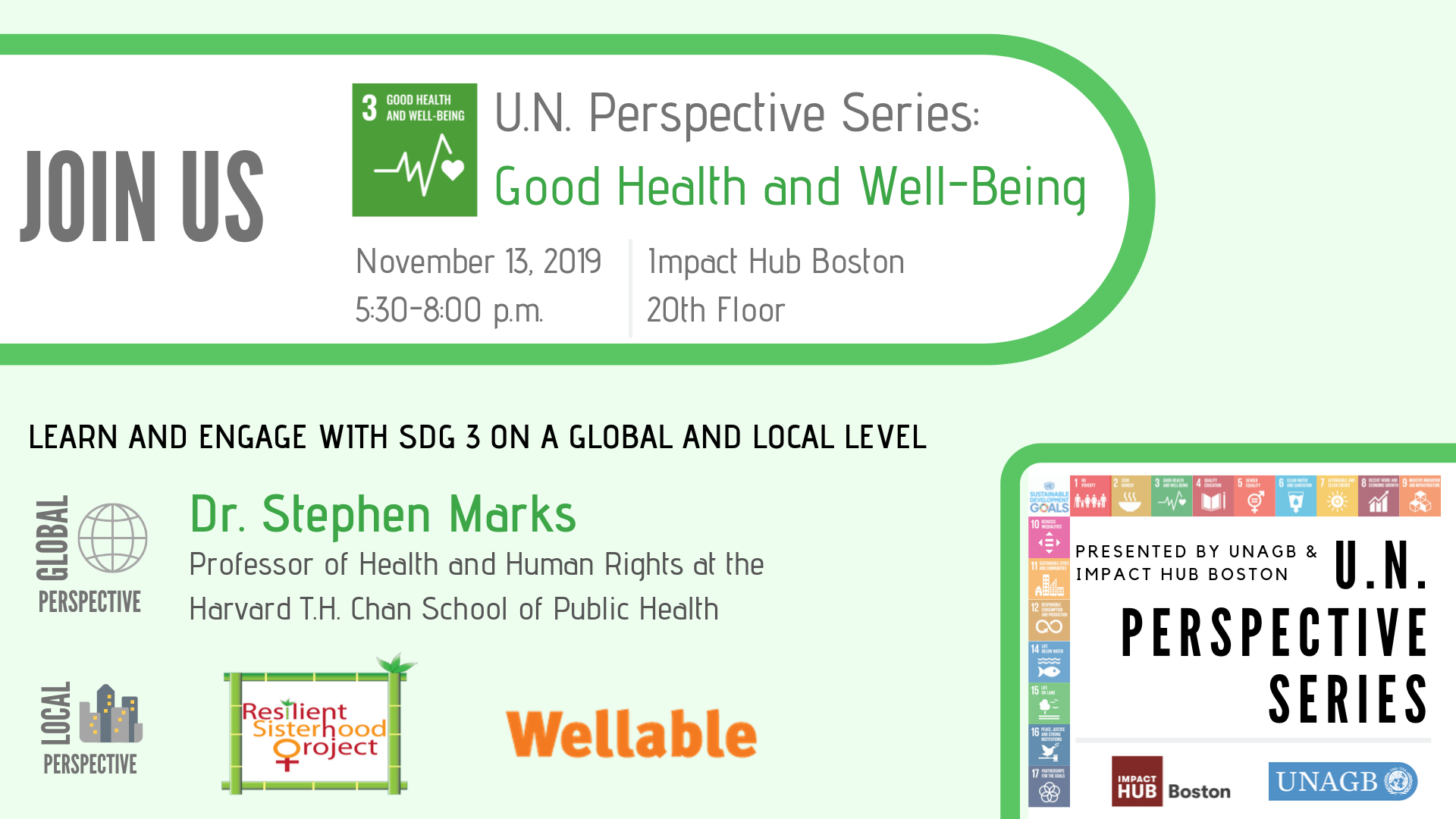 Agenda:
5:30-5:45–Networking
6:00-6:30–Updates from the SDG Committee
6:30-7:15–U.N. Perspective Series
7:15-7:45–Networking