---
Event Details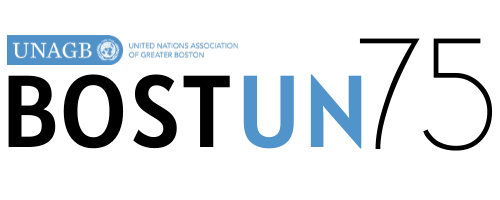 Join us on Wednesday, October 21 from 12:30 – 1:30 p.m. EST
online to help us commemorate the 75th anniversary of the United Nations. Speakers to be announced in August 2020.
—
October 24 marks the 75th anniversary of the UN Charter's entry into force in 1945. This anniversary, also known as United Nations Day, recognizes the UN's leadership and important work to uphold peace and human rights.
UNAGB is launching the BostUN75 campaign to raise awareness about the important work of the United Nations and to raise funds to support UNAGB–a 501(c)(3) nonprofit–in programming that teaches the community to uphold human rights and learn to collaborate globally toward the Sustainable Development Goals.
—
Thanks to Our BostUN75 Sponsors and Donors
To become a sponsor of BostUN75, click here.