A world-class evening of diplomacy, dinner, and dancing celebrating global leaders. Together, we raise valuable funds for Model UN and engage youth with the Sustainable Development Goals.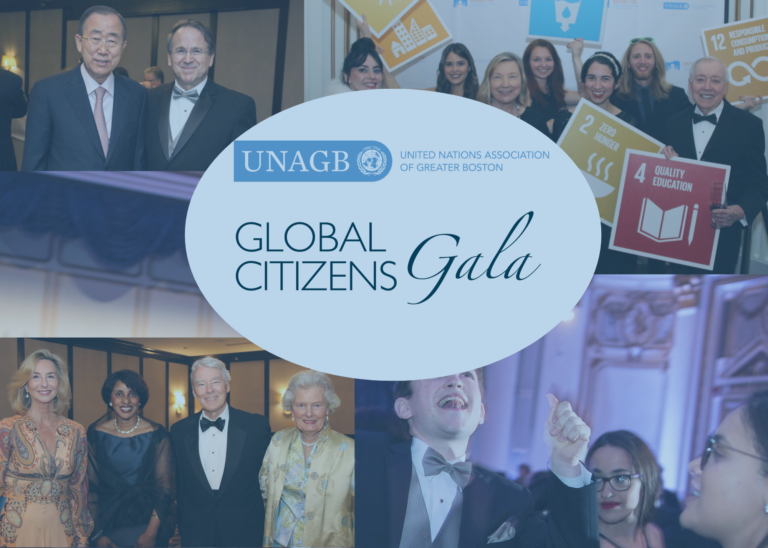 Our Global Citizens Gala is an elegant, high-spirited evening celebrating the many cross-cultural ties that enhance our area's international character and engagements.
The premier international gala of the year, the gala brings together over 300 local diplomats, business leaders, academics, as well as cultural and nonprofit communities. Together, we celebrate Boston's diverse international network and raise valuable funds to engage the next generation with the UN Sustainable Development Goals (SDGs).
Black tie optional – National Dress encouraged.
Honoring the Consular Corps of Boston
We organize this signature event annually to honor Consuls in our community – the local representatives of more than 60 UN Member States – and to highlight our mission of promoting global citizenship.
The Evening Benefits Global Education in Local Schools
Proceeds from the gala give more than 5,500 middle and high school students the opportunity to learn about global issues and enhance important life skills through UNAGB's Model UN programs. In Model UN, students (or "delegates," as we refer to them!) step into the role of diplomats negotiating solutions for the UN Sustainable Development Goals (SDGs), such as gender equality and climate change. Students leave with the ability to communicate, collaborate, and problem-solve important global issues and are inspired to be the leaders of tomorrow.
Become a Sponsor
Support deserving Model UN students and align yourself with the UN Sustainable Development Goals (SDGs) by sponsoring the Global Citizens Gala.
For questions, please contact Margo Bailey, UNAGB's Community Outreach Manager, at (617) 482-4587 or [email protected].